Sectors
Music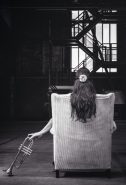 The UKAAF Music Subject Area (MSA) is made up of members who work in software development, braille music production, music education including the setting of examinations, production of Modified Stave Notation for partially sighted musicians, Talking Scores, and assisting musicians dealing with dyslexia/neurodiversity.
MSA was founded in 2012 and has three telephone conferences each year, usually in January, May and September. Here we update each other on work done and set the programme for the next few months. Members also represent UKAAF at conferences, exhibitions and other events likely to be of interest to musicians, and we also have representatives on relevant outside bodies.
There are specialist task groups which meet from time to time. All members follow with interest any new developments in emerging technologies, with a particular emphasis on accessibility and usability for musicians who cannot use conventional stave notation.
Currently, we are engaged in contributing to the DAISY Braille Music Project, the goal being to improve automated braille music production professionally, in education and for individual users.
Subject Experts